We have the equipment to perform ADAS calibration after performing a windshield replacement or repair.
Many newer vehicles come equipped with Advanced Driver Assistance Systems (ADAS), which are designed to protect the driver and passengers, as well as other drivers on the road. Some of the most common systems include forward collision warning, lane departure warning, automatic braking, adaptive cruise control, blind spot monitoring, lane-keeping assist, rear cross-traffic alert, parking sensors and/or self-parking features, and adaptive and/or automatic headlights.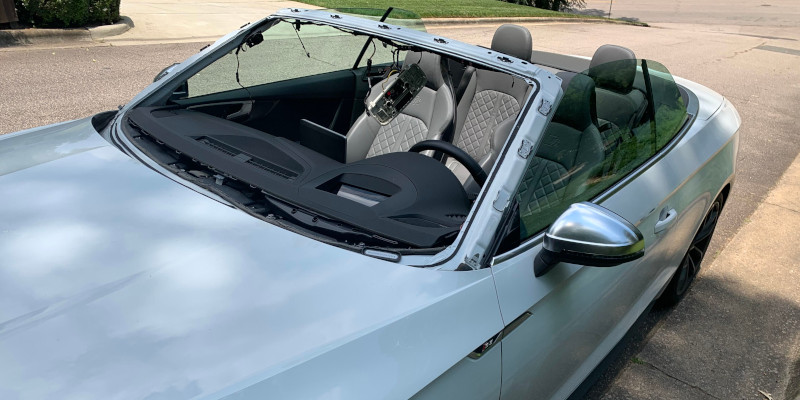 If your vehicle has any or all of these built into its safety system, it's important to know how ADAS impacts the repair process. While a windshield repair does not require calibration, a windshield replacement does need to be reset and calibrated to perform properly. The ADAS calibration process is critical in ensuring that your safety system can operate properly. If one sensor is out of alignment by one degree or a fraction of an inch, your vehicle may receive faulty information that can cause the ADAS to operate improperly or even shut down completely, resulting in a potentially unsafe driving condition.
In order to protect your vehicle and its safety, rely on the team at McConnell Auto Glass to take care of any windshield services. We have the equipment to perform ADAS calibration after performing a windshield replacement or repair. By taking care of this service as part of the process, you can feel confident that your car's ADAS will be able to perform when you need it to. Depending on the make and model of your car, we'll advise you about whether we will handle this service in our shop or on-site. We'll be able to tell when we look up your VIN number in our system. Auto owners in and around Raleigh, North Carolina can always rely on our team of experienced and helpful technicians.
FAQs About ADAS Calibration
There are 3 types of ADAS calibration: static, dynamic, and dual (dual means both static and dynamic need to be done; some situations require only one or the other). Check out our FAQs about ADAS calibration to learn more about this process.
What is dynamic ADAS calibration?
Dynamic calibrations are the simplest form of calibration that can be done on site. It doesn't require a level surface, camera captures, or measurements and only requires it driving at a certain speed with our scan equipment hooked into the OBD port to confirm the camera is reading the road properly. These are most typically performed on domestic vehicles; very rarely does a domestic vehicle require a static calibration. The price for calibration is $189.99 and takes anywhere from 30 minutes to an hour.
What is static ADAS calibration?
Static calibrations are the complex type. They require full body measurements of the vehicle on a level surface with certain lighting conditions along with camera captures. Certain manufacturers require certain size boards that sit on a movable frame with computer interface images that only the camera recognizes. We move this board around the room continuously to make sure the camera is reading the images appropriately and in a timely manner after we have taken body measurements. This can take anywhere from 1-3 hours. We are at the mercy of the vehicle, and certain vehicles will require the camera to capture one image, while other vehicles require multiple certain distances to, from, and around the vehicle.
Why are ADAS calibrations required by the manufacturer?
The reason calibrations are required by the manufacturer is because each time the windshield is removed, the rear-view mirror needs to be taken off, and this is where the sensors and cameras are normally housed. The vehicle recognizes the camera has been removed and sends error codes on the dashboard's computer. Calibration ensures the camera is sitting in the exact spot it was in before and reading the road properly. If the camera is off even a degree, it will not calibrate and the error codes will never leave. Those vehicles that have major driving accessibility will cause severe internal failures to the motherboard of the sensors. The average cost for a new motherboard is between $5k-$7k. The camera will overheat, forcing itself to make sense of the error codes and trying to configure the road accurately. This can eventually lead to failure in the sensor itself, which is enough to total a car.
What kind of calibration does my Acura need, and how long will it take?
Acuras vary in types of calibration, and this mainly falls in line with the types of sensors it equips and the trim package that is offered. The time for calibration is anywhere from one hour to three hours.
Does my Acura need a realignment before calibration?
Certain models require alignment prior to calibration. This is to ensure that your vehicle is level so that the camera can read the road properly.
My eyesight camera in my Subaru or Nissan doesn't move when you replace my windshield, so why do I need to get it calibrated?
Some Subarus and Nissans can be the exception to the camera in the rear-view mirror attachments, but calibration is still required. The reason for this is because of the clarity of the glass. It will recognize that the glass has been removed and may read in a magnified or unmagnified manner. This can cause distortion in vision once the glass is put back in. Calibration is especially important for ADAS features like pedestrian detection, traffic signal recognition and adaptive cruise control.
Do you use OEM glass for Toyota vehicles?
We use any glass requested by the customer. Typically, aftermarket is more affordable for the consumer and is on average the favored option. Aftermarket manufacturers make the glass for the car manufacturer, so the differences are minor, if any at all.
Will my insurance cover OEM glass in my Toyota vehicle?
Each insurance company has different cost rates, endorsements, and underwriting allowances. Some operate on the restriction of mileage, and year, while others provide policy endorsements that are included in a monthly premium or in compliance with present ADAS sensors. The best way to know if your insurance company will cover OEM glass is to contact your insurance provider. You can also give us a call after you have set up the claim and assigned us so that we can check for any pre-approvals or policy endorsements. In some circumstances we can pursue a forced approval on your behalf. This is on a case-by-case basis and is not always subject to a certain outcome.
What manufacturers do you use when using aftermarket replacement glass in Hondas?
All of the glass manufacturers we use also produce original glass for other car manufacturers. Each piece of glass contains a signature stamp with the watermark of the car manufacturer, as well as DOT inspection numbers, tint specifications, and the name of the company that made the glass, essentially known as an "aftermarket manufacturer". Our preferred vendors are Pilkington, Sisecam, and Sekurit, among others.
---
At McConnell Auto Glass, we offer ADAS calibration in Raleigh, Garner, Clayton, Fuquay-Varina, Wake Forest, Knightdale, Benson, Dunn, Coats, Lillington, Angier, Cary, Holly Springs, Apex, Morrisville, Four Oaks, Smithfield, Durham, Willow Springs, Zebulon, Chapel Hill, Wendell, Sanford, Youngsville, Goldsboro, and Rolesville, North Carolina.
Similar Services We Offer: