Our mobile back glass replacement services are the safest way to deal with a broken rear window.
The most common window to become damaged on a vehicle is the windshield, but that doesn't mean something can't happen to the others. In fact, the back glass gets damaged more often than you might think. If a windstorm has put a tree branch through your window, your lawnmower kicked up a rock, someone broke into your vehicle through the back window, or something else has occurred, call us at McConnel Auto Glass to schedule back glass replacement.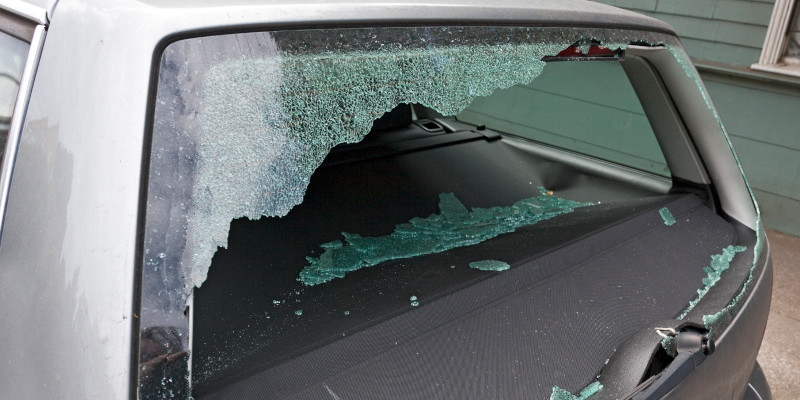 One of the annoying things about broken rear window glass is that it impedes your ability to see behind you. That's especially true if you need to cover the opening with something to protect the inside from the elements and keep exhaust from entering into the vehicle. If you do not want to run the risk of accidentally backing over something out of view, we recommend contacting us to schedule a same-day or next-day appointment for back glass replacement utilizing our mobile response services.
Back to Basics: Why You Need to Take Care of Back Glass Replacement
When it comes to problems with your windshield glass in your vehicle, you likely are thinking about your front windshield. Since this window faces forward while you drive, it is the most likely to get struck with road debris, suffer pitting or cracks, or fall victim to a whole host of other issues. Here at McConnell Auto Glass, we want to help ensure that all the glass windows of your vehicle are taken care of, including the back glass. Here are just a few reasons why you may need to take care of a back glass replacement as soon as possible.
Protection from the Elements. When your back glass is missing or damaged, your vehicle is left exposed to the elements. While this might not be particularly hazardous on a warm and sunny day, other poor weather conditions such as wind, rain, hail or even snow could make your way into your vehicle and cause even more damage.
Theft Prevention. Thieves are always looking for easy targets and a large, missing or broken piece of back glass certainly makes your vehicle an easy target! Even people who wouldn't otherwise steal may consider taking something from an open car.
Safety Concerns. Driving with missing or broken back glass isn't just ill-advised, but it's dangerous as well. Your back glass provides protection and aerodynamic features that your vehicle needs, making back glass replacement important.
Here at McConnell Auto Glass, we know how the importance of a timely back glass replacement. If your vehicle's back glass is damaged, give us a call. We would love to assist you with your back glass replacement.
Our mobile back glass replacement services are available over a 2,500-square-mile area that includes Raleigh, North Carolina, as well as communities in Wake, Durham, Johnston, and Harnett Counties. We are happy to come to your home, place of employment, or wherever your car is located in our service area.
We confidently stand by our craftsmanship and ensure that quality and care are upheld to the highest degree. If you're not satisfied, neither are we. That's why we provide a lifetime warranty with all of our services and materials. That's dependability you can count on! Contact us today to learn more.
---
At McConnell Auto Glass, we offer back glass replacement in Raleigh, Garner, Clayton, Fuquay-Varina, Wake Forest, Knightdale, Benson, Dunn, Coats, Lillington, Angier, Cary, Holly Springs, Apex, Morrisville, Four Oaks, Smithfield, Durham, Willow Springs, Zebulon, Chapel Hill, Wendell, Sanford, Youngsville, and Rolesville, North Carolina.